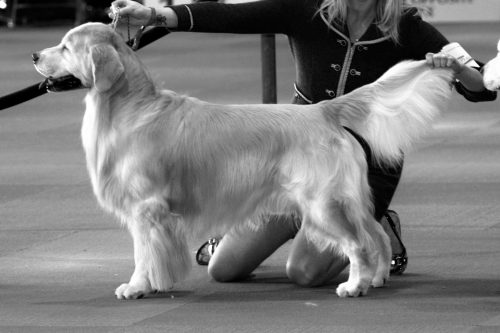 Only the very best males should ever be used at stud.  The only reason anyone should breed his animal is to try to improve the breed.  A bitch owner can go to any of the top stud dogs in the
country.  So, what does your dog have to offer?
Has your male been evaluated in the show ring by qualified judges against top competition?
Has he been OFA certified clear of hip and elbow dysplasia?
Have his eyes been checked by a veterinary ophthalmologist, who certified him clear of PRA and other hereditary eye defects?
Has his heart been cleared for murmurs or hereditary issues by a veterinary cardiologist?
Has he been tested clear of brucellosis?
Is he of the proper temperament?
If you answered yes to all the above questions and you are one of the lucky few to own an outstanding dog, are you ready and prepared to handle a stud dog?
Breeding doesn't always happen easily.  Do you have the necessary facilities to board a bitch in season to keep her safely in and the neighborhood dogs out?  Are you prepared to spend sleepless nights with your boarding bitch in season barking and your male pacing, whining and howling?  Are you prepared to handle the problem bitch that does not want to be bred and tries to rip your dog to shreds?  Are you qualified to evaluate pedigrees and judge if your dog's five generation pedigree will complement the bitch's?  It is your dog's name and reputation you are passing on to that litter.  Are you qualified to advise the bitch owner on whelping and puppy care if needed?  Is there a market for the puppies?  Have you seen bitches in season at all, and can you tell when it's best to breed?  Have you ever assisted in a breeding, or even seen one so you know what to do? Do you realize that leaving a dog and bitch alone together can be disastrous and may physically harm both?  Are you prepared for the change in your male's temperament?  Once he has been used for stud, that will become the only thing on his mind.  Are you prepared the effects on your dog….his not eating, vomiting, pacing and constant whining?
As you can see, it is not all that easy.